Commercial, Multi Family, Residential
The battle to keep buildings efficient is fought in the small spaces and tiny cracks, and when it comes to insulating your commercial, multi-family, or municipal building, B. Alpha Construction has the experience and craftsmanship you need. With over four decades of combined experience helping buildings perform at their best by using spray foam and cellulose insulation applications, our team has what it takes to tackle your insulation project in Western Massachusetts.
Knowing when to recommend using all cellulose vs all spray foam, and when to consider hybrid closed-cell foam with cellulose or hybrid closed-cell foam with open-cell foam is a complex decision. There are multiple variables, like space constraints, costs, building philosophy, ventilation strategies, and much more. Balancing all of these demands is where B. Alpha Construction shows its greatest strengths and value.
Need a commercial insulation installer in Western Mass?
Contact B. Alpha Construction!
High-Performance Insulation for Any Commercial Building
High-Performance Insulation for Any Commercial Building
No two buildings are exactly alike, and even buildings with identical floor plans and blueprints can suffer from different building performance issues. Also of great importance is the location of your thermal boundary or envelope. This is why experience matters when it comes to commercial insulation! We utilize the best in building science knowledge and diagnostic tools to find customized commercial insulation solutions that provide results. Plus, we can help you save on the cost of your projects through available tax credits, incentives and rebates like Mass Save!
We install insulation for new construction and perform deep energy retrofits for existing buildings of all types and sizes, including:
Warehouses, manufacturing, and storage facilities
Schools, dormitories & offices
Churches and houses of worship
Offices, retail stores, restaurants
Theatres, Clubs
Apartment buildings, garages
Municipal Town halls, Libraries in, Fire Stations
Government and nonprofit buildings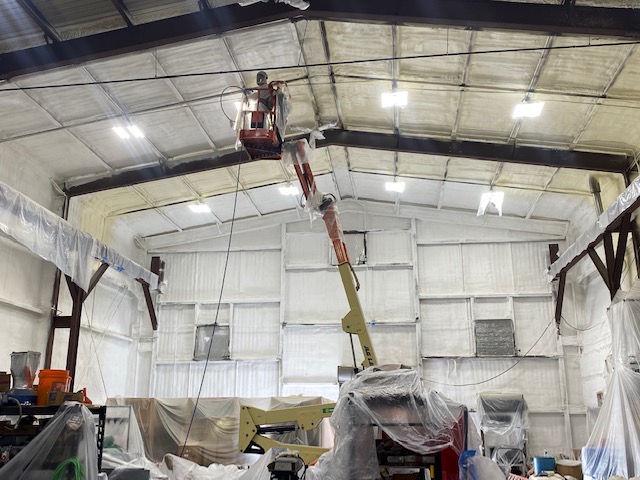 Insulation for Multi-Family Residential Properties
Reducing the energy consumption required for the apartments or condos in your multi-family residential building makes your property more appealing to prospective tenants, and if you are the one paying the utilities it saves you in energy costs! The B. Alpha Construction team has helped reduce energy usage for everything from duplexes to multi-level apartment buildings and large apartment complexes while delivering benefits like:
Lower heating and cooling bills
Improved indoor air quality
Increased apartment soundproofing
Less mold growth and water damage
Municipal Building Insulation in Western MA
Municipal Building Insulation in Western MA
Keeping a municipal building operating efficiently and comfortably on a lean municipal budget is a balancing act — and even the smallest inefficiencies can add up to big energy bills if you can't find permanent solutions! As a Mass Save Commercial, multifamily and municipal contractor, our team can get you the savings you need to bring your project in on budget while delivering high-performance insulation installation.
Not All Free Consultations Are Created Equal
While many insulation and energy efficiency experts may offer free consultations when it comes to insulation, we can assure you: not all free consultations are created equal. What makes B. Alpha Construction different? Our experience is unmatched, and we have put together a team of spray foam all-stars that go above and beyond to make sure your insulation consultation is as accurate as possible. And as a Mass Save qualified contractor, you can trust that your assessment will ensure you get the maximum rebate amount
At B. Alpha Construction we look at all the scenarios and options. We make sure we find the right program and the right package, from utility incentives to rebates, grants, and tax credits. Many contractors are only interested in going after the low-hanging fruit and a simple solution with the best payout, instead of the best solution for their customers. We take great pride in making sure that our customers receive the best solutions and lowest costs for their projects.